Gas Works
Ex-Situ Remediation of Gas Works Wastes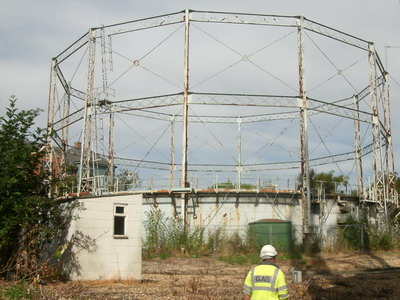 CLIENT: Civil Engineering Contractor, North England
DURATION: Three months (initially)
COST RANGE: £50,000 to £100,000
STATUS: First Phase Completed
WORKS:
Scoping of remediation scheme with consultant and client.
Design and selection of optimum stabilisation / solidification formulation.
Technical liaison, site supervision and work optimisation.
Analysis and monitoring of contaminant mobility in the treated material.
Provision of treatability report to prepare for the start of Phase 2.
The purpose of this project was to provide an economically viable remedial solution to deal with very difficult stockpiled wastes which had been isolated during excavation of the former gas works site. These were heavily contaminated with variable and elevated levels of petroleum range hydrocarbons, polycyclic aromatic hydrocarbons (PAH), phenols, cyanide salts and other recalcitrant chemicals.
TRM undertook an extensive and comprehensive treatability study to identify the optimum additives, cements and binders to satisfactorily remediate the various contaminants of concern. Only the properly selected and formulated mix design is able to reduce the long-term mobility of the various contaminants and produce material potentially suitable for re-use on site as engineered fill.
Click here to download pdf.
For futher information and informal advice contact mail@trm-ltd.com