Complete Project Management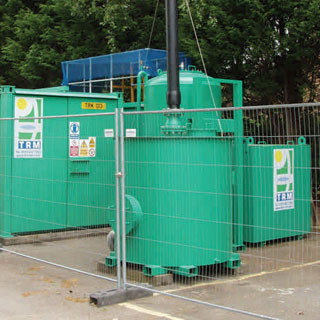 TRM's design, installation and project management services utilise a series of biological, physical and chemical technologies to remediate polluted soil and groundwater.
We provide a holistic approach in solving environmental management problems by acknowledging the inter-connectedness of all issues as they affect the environment. Tackling or addressing such issues demands integrated approaches in offering the solutions to the issues and problems being addressed.
Our services are used by environmental and engineering consultants, civil engineering contractors, building and property developers, land managers, private land owners, local authorities and utility providers.
Our services are used across a number of sectors, including the following:
Brownfield sites.
Petrochemical industry.
Chemical manufacturers.
Petrol stations & automotive industry.
Landfills.
Scrapyards.
Historic gas & coking works.
Water industry.
MOD land.
Chemical analysis of the soil, groundwater and emissions are undertaken to monitor the removal rate of contaminants and may be required by the conditions of an environmental permit, water discharge consent or validation of a remediation strategy.
TRM provides a full package of remediation techniques in order to successfully treat contaminated soils and groundwater, all of which are undertaken with our Environmetal Permit EPR/GP3895FL:
Air Sparging.
Bioremediation, in situ and ex situ.
Chemical oxidation and dehalogenation.
Ex situ treatment of pumped groundwater.
Soil vapour extraction.
Dual phase vacuum extraction.
Stabilisation and solidification.
Sorting and separation.