Industrial Site Restoration
Industrial Site Restoration
In -Situ Remediation of Soil and Groundwater Severely Impacted by BTEX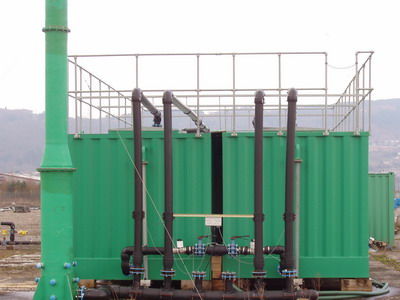 CLIENT: International Chemical Manufacturer, South England
DURATION: Three Years
COST RANGE: £500,000 to £1,000,000
STATUS: Completed and Validated
WORKS:
Design of remediation plant in line with information and brief from consultant.
Project management and liaison.
Manufacture, installation and commissioning of ATEX-compliant remediation equipment.
Operation and maintenance of equipment.
Provision of Environmental Permit and Environment Agency liaison.
A former industrial chemical manufacturing site was to be redeveloped for industrial and domestic usage. Soil and groundwater had suffered extensive contamination from volatile organic compounds (including benzene and vinyl chloride) over a treatment area of some 20,000 square metres.
TRM constructed an extensive installation of surface laid collection pipework overlain by a purpose built impermeable barrier. The groundwater was sparged under a predetermined regime, which liberated the volatile compounds for subsequent collection and destruction with an automated catalytic oxidiser which was optimised to operate in the auto-therm range.
This specified operating regime achieved efficient and effective remediation of the soil and groundwater. The entire system operated automatically by PLC with remote sensing, data acquisition and remote telemetry.
Click here to download pdf.
For further information and informal advice contact mail@trm-ltd.com