Operational Petrol Station
Operational Petrol Station
PROJECT: In-Situ Remediation of Petrol and Diesel Contaminated Soil and Groundwater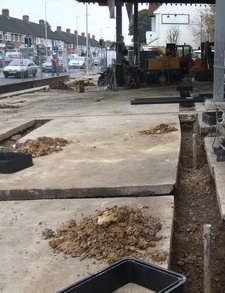 CLIENT: International Fuel Retailer, West Midlands
DURATION: Nine months
COST RANGE: £50,000 to £100,000
STATUS: Completed and Validated
WORKS
Design of remediation scheme based upon consultant site investigation.
Installation of boreholes, permanent buried pipework and permanent reinstatement.
Installation and operation of an ATEX-compliant system.
Commissioning, operation, monitoring and optimisation of the remediation scheme.
Completion and validation of the works to regulatory and client requirements.
TRM was commissioned to undertake remediation works on an operational fuel filling station taking due regard of the restricted operating parameter in such a working environment. The scheme was to be able to deal with limited free phase product but configured primarily to deal with vapour phase and dissolved phase contamination comprising lighter fraction petroleum hydrocarbons and BTEX.
The works involved the removal of controlled levels of flammable gas through the system along with significant quantities of contaminated groundwater which was stripped and filtered using high pressure vessels containing granular activated carbon prior to discharge to sewer under consent. The system was operational for a period of nine months after which time the target concentrations for the soil vapour and dissolved phase contamination were met and the site has been independently validated and signed off.
Click here to download pdf.
For further information and informal advice contact mail@trm-ltd.com