Service Station Redevelopment
Service Station Redevelopment
PROJECT: In-situ Remediation of Fuel Impacted Soil and Groundwater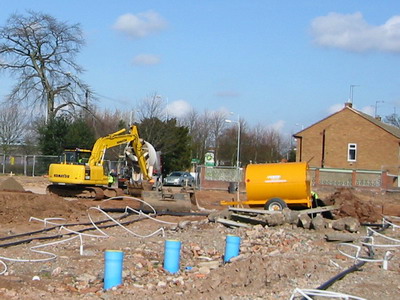 CLIENT: Property Developer, West Midlands
DURATION: Nine Months
COST RANGE: £50,000 to £100,000
STATUS: Completed and Validated
WORKS:
Design of in situ soil and groundwater remediation scheme.
Installation and operation of treatment system to remediate diesel-impacted soil and groundwater.
Routine monitoring to optimise conditions and ensure proper biodegradation of hydrocarbon contamination within the soil.
Analysis and progress monitoring throughout the works.
Liaison with client's consultant and provision of Environmental Permit.
The former service station was acquired by the client for housing construction. Prior site investigation had indicated extensive contamination of soil and groundwater by petrol and diesel. The originally selected in situ system was configured to operate as a dual phase system. This allowed the controlled abstraction of free product and remediation of the dissolved phase contaminated groundwater and petroleum hydrocarbon vapour by GAC filtration.
Groundwater sparging enhanced the physical stripping of the volatile contamination from the aqueous phase and promoted natural propagation of the hydrocarbon degrading bacteria. Free phase LNAPL was removed from the groundwater at 5 metre depth as the first stage. Dual phase vapour extraction then removed the residual and dissolved phase material and hydrocarbon vapour from the soil mass. TPH contamination in the groundwater was reduced from 600mg/l to below 10µg/l.
Click here to download pdf.
For further information and informal advice contact mail@trm-ltd.com