Underground Storage Tanks
Underground Storage Tanks
PROJECT: Removal of Redundant Underground Fuel Tanks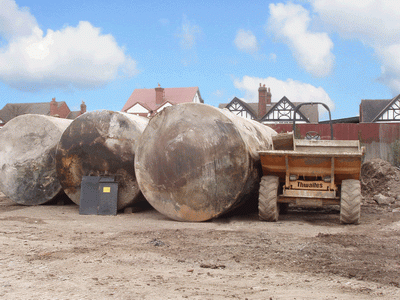 CLIENT: Property Developer
DURATION: Seven Weeks
COST RANGE: £100,000 to £200,000
STATUS: Completed and Validated
WORKS:
Breaking out of concrete slabs and crushing for retention on site.
Removing tanks and associated fuel lines, pumps and interceptor.
Selective excavation of clean and contaminated material for re-use or treatment / disposal as appropriate.
Contaminant abstraction and treatment of hydrocarbon impacted groundwater.
Completion and validation of the works to regulatory and client requirements.
The groundwater beneath the site was found to be contaminated by petroleum hydrocarbons which were attributed to the presence of residual fuel and oil in the underground tanks. TRM provided all of the necessary resources i.e. civil engineering works, tank content treatment and removal, groundwater treatment and treatment/disposal of the contaminated soil and wastes all in a cost effective and timely manner.
Materials removed included:
Redundant steel tanks: 8
Waste oil: 5,800 litres
Oily sludge: 1,200 litres
Contaminated soil: 1,000 tonnes
Click here to download pdf.
For further information and informal advice contact mail@trm-ltd.com